6 European countries
7 partners
7 events
6 meetings
Duration: 30 months (01/11/2018 – 30/04/2021)
Project Reference: 2018-1-HR01-KA202-047493
Programme: Erasmus+
Key Action: Cooperation for innovation and the exchange of good practices
Action Type: Strategic Partnerships for vocational education and training
Budget: 271.075,00 EUR
The industry is crucial to Europe's economy. It contributes to Europeans' prosperity through business in global and local value chains and also provides jobs. The development of science and technology in recent times is hosting major changes with the emergence of new key concepts, e.g. micro/nano-electronics. In view of above, there is a global race for talent and the European workforce needs to acquire high-level skills needed to continuously improve and boost employability and competitiveness.
The EU industrial policy has defined Key Enabling Technologies (KETs) as a relevant area for scientific innovation. KETs are a basic source for innovation that provides indispensable technological elements for the development of a wide range of new materials, products, and services with great added value. KETs should have substantial impact in terms of creating high quality jobs, improving people's lives and creating future prosperity, since they could be applied to all sectors and industries: chemicals, textiles, healthcare, etc.
However, one of the major weakness of Europe lies in its inability to translate the knowledge base into specific goods and services. Stakeholders report a gap between the skills that are supplied by educational institutions and the skills that are actually required by the industry. The current educations programmes focus mainly on technical skills, while the professional involved in KETs need to prove their ability to hold a mixture of both technical and non-technical skills.
To bring together an innovative partnership among Vocational Education and Training (VET) providers, research centres, universities, companies and associations with wide experience in the subject of Key Enabling Technologies (KETs) and education.
To develop a Joint Curriculum for developing and fostering new skills of Vocational Education and Training students.
To implement Key Enabling Technologies in Vocational Education and Training through the creation of an open e-learning content.
To create new job opportunities for people with the necessary skills in the field of Key Enabling Technologies.
Development of a flexible learning pathway in line with the needs of Vocational Education and Training learners and other stakeholders related to Key Enabling Technologies (nanotechnology, biotechnology and advanced materials).
An online and open course of Key Enabling Technologies in Vocational Education and Training, whose direct impact will be the innovation and excellence of entirely new industries and the transformation of the existing industrial base.
Concretely, BRACKET project encompasses three KETs detailed below:
Industrial Biotechnology: including enzymes, micro-organisms, amino acids and fermentation processes, excluding biotechnology for healthcare and agriculture. Industrial biotechnology is used for products such as bio-fuels, detergents, materials including plastics, rubber, chemicals, etc.
Nanotechnology: dealing with methods to manufacture structures on a molecular or atomic scale. Examples of applications include nanomedicine for improved healthcare, as well as carbon nanotubes for lighter materials and for lighter materials and for higher conductivity and improved energy management.
Advanced materials: covering a broad area of innovation in materials such as lightweight materials, low-carbon material energy solutions and other, including polymers, macromolecular compounds, rubber, metals, glass, ceramics, etc.
O1: Desk-research for demanded Key Enabling Technologies.
Endorsement of the research needs. The activity, contemplated for the successful development of the overall O1, pretend to share the identified needs with a selection of different industry experts, VET students, teachers, regional developers, professional associations, etc. with the objective of knowing their opinion. Collaborators and associated organisations to the Partnership partners will be consulted during that activity. The minimum of participants reached in that activity will be 140 (20 per participant).
O2: BRACKET Joint Curriculum.
Validation of the Joint Curriculum. During the development of O2, after the Joint Curriculum definition and before develop the training content stakeholders and associated partners will be consulted. Some of the same organisations consulted in O1 and also new ones should be requested during the activity. The minimum of participants reached in that activity will be 35 (5 per participant).
O3: BRACKET TRAINING MATERIAL
All the necessary didactic materials for the learning units will be delivered: lecturing materials such as notes, slides and videos, learning activities and practices proposed, recommended readings, exams and tests, etc.
It is expected that different learning objects in the form of e-learning modules will be developed using the WBT (Web Based Training) model. This model takes into account the target users (already consulted in O1, O2 and will verify the platform and the training course in O4).
BRACKET Training Course Brief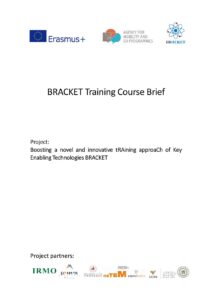 O4: BRACKET TRAINING AND COLLABORATIVE PLATFORM
Real Verification of BRACKET training course. After the complete deployment of the training materials in the developed e-learning platform, it will be verified its correct usability. To carry on that activity, a minimum of 45 participants will be requested.
BRACKET E-LEARNING
Desk-research analysis for demanded Key Enabling Technologies and their implementation in industry and VET education. The report will include National Policy Overview – the inclusion of KET in policy documents on national level: national strategies, sectoral strategies, education and science polices, operational programmes, funding possibilities.
Data collection by means of questionnaires aims to analyze the incoming trends regarding KETs and competences necessaire to foster its implementation in work. Findings will be input for a project activity of developing a new online course available for VET students who are interested in developing and fostering new skills on KET.
Based on the results obtained by each partner research, IRMO will prepare the first draft of the "Key Study on Vocational Education and Training towards Key Enabling Technologies". This study will provide a complete analysis of the current situation about how the concept of KETs, concretely focused in nanotechnology, biotechnology and advanced materials, is being implemented within VET. This activity has the objective of identifying the current knowledge in order to define the skills and competences needed by VET students (initial VET which are willing to work in these sectors and continued VET, already involved in technological industries).